Neijiang is a mid sized city in Sichuan province with a population of about 550,000. Neijiang is not much of a tourist city, but I thought I'd give it an honorable mention on the site here, since it's my hometown, and I'm attached to it in more ways than I can count!
Neijiang city isn't large, and has a mid sized population, but it has one of the highest population density in the province. The Tuo river runs through the city. I still remember more than 20 years ago, the Tuo river running through Neijiang was wide and deep - now, it has receded and lost much of its depth.
The city was an important salt producing area, but in recent times, it has become a production base for sugarcane, and is commonly referred to as the sugar capital of Szechuan. During fall and winter, everywhere you go, you will find sugarcane vendors selling sugarcane for merely a few yuan.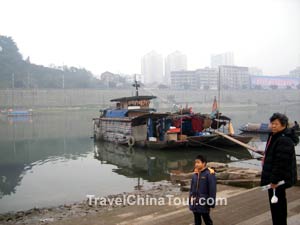 A photo of Tuo river. You can see far in the back ground, the cemented river banks that was errected to prevent floods, which now is quite useless. In the early 80's I had encountered a massive flooding of the Tuo river in Neijiang city.
Neijiang Food and Lifestyle
Like I mentioned in the Sichuan Mahjong article, Neijiang has a very relaxed lifestyle like most other cities in Sichuan. The people here enjoy daily community dances, mahjong, karaoke, teahouses, and all types of other physical and outdoor activity.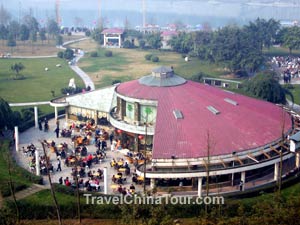 A popular teahouse at DaZhou Park.
In all the parks, people of all ages take part in community dances, fitness groups, and drum dancing groups. It was rather strange for me the first time I was able to visit Neijiang after so many years, since this isn't something you see everyday (or at all) in north america. Many people, regardless of their age or gender, take part in the community dances or "aerobics" sessions outdoor. At DaZhou Plaza (a large park by the Tuo river), there are usually several groups of different styles of activity going: one group is dancing to traditional Chinese music, another group is exercising with a more upbeat music, and another group with big and small drums hammering away. It's quite a sight for the eyes and the ears!

A crowded back street market during day time. There are vendors selling everything from shoes, to clothing, to food, to pot repairs.
Neijiang like all other cities in Sichuan, serves hot, spicy, and tongue numbing food. But because Neijiang isn't much of a tourist city, it's Sichuan cuisine has had very little outside influence, and has remained very authentic. One thing you will notice in almost every dish is the large amounts and wide varieties of chili peppers used. You can learn more about Sichuan cuisine and cooking here.