The Seven Star Park (Qi Xing Gong Yuan) is located on the east bank of the Li River, not far from city center. The park was built after 1949 covering over 100 acres. Because of the large size of the park, there are shuttle buses available that takes around the park to all the different attractions and scenic areas.
One of the popular scenic areas of the Seven Star Park is the Camel Hill. Look at it from afar, you'll see the rock peaks that resemble a camel - a large single rock peak that looks like the camel's neck and head, and several peaks that look like camel humps.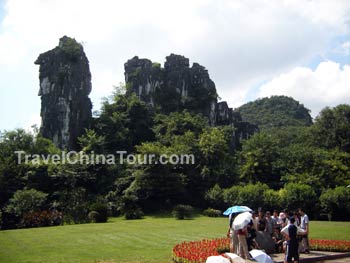 The Camel Hill.
Another popular tourist attraction is the Seven Star Cave, which is another large karst cave with all shapes and sizes of rock formations. Long time ago, the seven star cave used to be an underground river channel, and became a popular attraction as long as 1,300 years ago. Over the centuries, many poems and inscriptions have been left on the cave walls by visitors.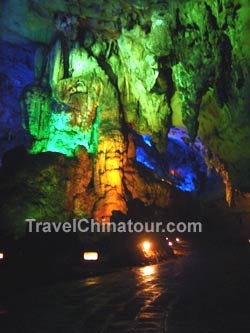 Seven Star Cave
Guilin Fubo Hill
Fubo Hill is located in northeast region of Guilin, bordering the Li River within walking distance from Diecai Hill. If you wanted, you can climb up to the peak of the hill. Below, there's a cave named the "Thousand Buddha Cave". It is a 2 level cave. The upper level is more than 20 meters long, and the lower level is 7.4 meters long, 6m wide, and 12m tall. There are over 200 stone figures carved inside the cave, and most of them are from the late Tang Dynasty.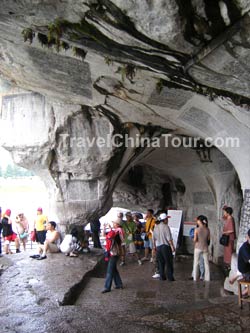 Sword testing pillar.