Fubo Hill is another famous tourist destination in Guilin - it's located right by the Li River. After my tour of Diecai Hill, I headed toward Fubo Hill. While on top of the Bright Moon Peak at Diecai Hill, I can see Fubo Hill not to far off in the distance. So instead of taking a cab, I decided to take a walk in Guilin city, and walked my way towards Fubo Hill. I'm guessing its about 2 to 3km away from Diecai Hill, and the walk too me about 20 minutes.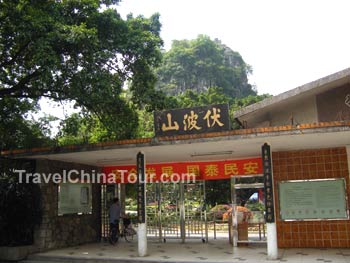 Guilin Fubo Hill entrance.
Fubo Hill is quite similar to Diecai Hill, in terms of the surrounding scenery. Once you climb up to the top of the mountain, you will get the same, nice view of the entire Guilin City. The only main difference is that Diecai hill has a higher peak. Once inside the Fubo Hill area, there's a cave named the "Thousand Buddha Cave". This cave is located right beneath Fubo Hill, and it's a 2 level cave. The upper level is more than 20 meters long, and the lower level is 7.4 meters long, 6m wide, and 12m tall. There are over 200 stone figures carved inside the cave, and most of them are from the late Tang Dynasty.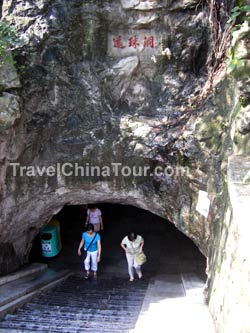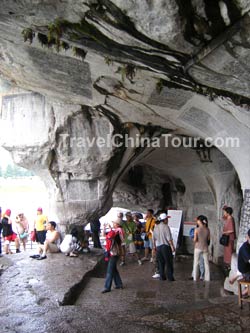 This is the "Sword Testing Stone". The large inverted cone shaped rock is the Sword Testing Stone. You can't really see it, but at the bottom, it does not connect to the ground - there is a slight gap. But there's people sitting infront of it, blocking it from view.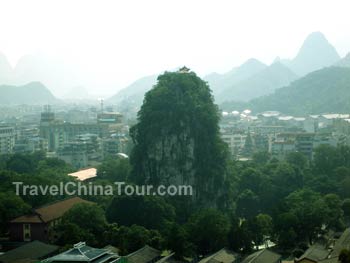 More scenery of Guilin taken on top of the Fubo Hill. As you can see, within the city there are mountain peaks spread throughout, and the city is surrounded with mountain ranges.