Tibetan Autonomous Region is called Tibet. It is located on the southwestern edge of the Qinghai-Tibet plateau in south-west of China. It occupies 1.2284 million square kilometers, which is accounting for about one eighth of the total area and second only to the Xinjiang Uygur Autonomous Region. The width of the North-South is about 1,000 kilometers and the length of the West-East is up to 2,000 kilometers. It is the world's largest plateau with the highest elevation. People called it "the Roof of the World". Tibet is bounded to Xinjiang, Sichuan, Yunnan, Myanmar, India, Bhutan, Sikkim and Nepal with a borderline of 3,842 kilometers. It is an important gateway to the southwestern border of China.
Tibet has not only the singular and unique geological features of the natural scenery, but also a unique social cultural landscape. In ancient times, there were more than 2,700 temples and many palaces, gardens, castles, forts, tombs, such as the Old Stone Tablet.
The Tibet staple food and beverage is Zanba, meat, milk, butter tea and highland barley wine. Zanba is a unique Tibetan staple food, which is made by grinding barley powder. People can eat this by hands mixing butter tea, salt tea, yogurt or highland barley wine.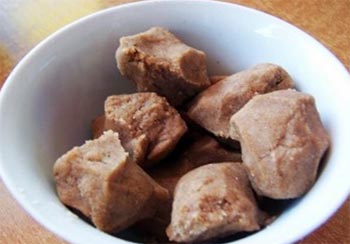 Zangba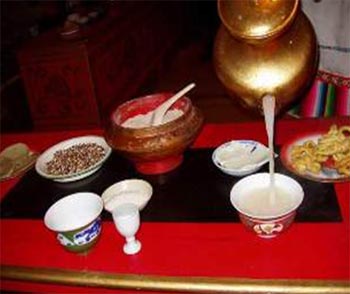 Butter Tea
Butter tea: in Tibet, everyone drinks butter tea. It's the indispensable daily food for every Tibetan. Cattle and sheep are also an indispensable part for Tibetans. And the butter that products butter tea is processed out from cattle and milk.
Tibetan Buddhism: seventh century AD, Buddhism was from China's inland regions and Nepal, then into the Tubo. First, it is practiced among royalty and the aristocracy, and gradually extended to the common citizens.
Tibetan knife: there are a large variety of Tibetan knives. Men and women have different types - different length and width ranges with different quality, upholstering and style. Decorative knives should emphasize on high quality, beautifully refined, work fine and pleasing to the eye; as production tools or self-defense weapons they should emphasize on usage.
Tibetan dress: during long-term labor and production periods, Tibetan gradually formed its own customs etiquette, and also formed independent Tibetan style clothing. Tibetan costumes are characterized by long sleeves, wide waist and big sleeve cuff.