My second day in Guilin has been all planned for a Li River cruise. I made arrangements with a local travel agency to take the Li River cruise, tour Yangshuo, and several other tourist destinations by Lijiang river. Early in the morning, I headed out to a restaurant close by, and for breakfast, I had the local Guilin specialty Mi Fen, or rice noodles.
The tour bus came to pick me up around 8am, and it was another 30minutes of driving around the city picking up several other tourists before we were headed to the docks on Li River. The drive to the docks was about 30 minutes. The Li River cruise takes you from Guilin to Yangshuo city, which is a 64km cruise. We arrived at the docks at 9:30am, and the daily cruise starts at 10am.
Lijiang Li River Tour
The cruise ticket costs $210 yuan per person, and all the cruise boats leave at around the same time each day at 10am. Our tour group was seated on the Lianfeng08 Cruise Boat.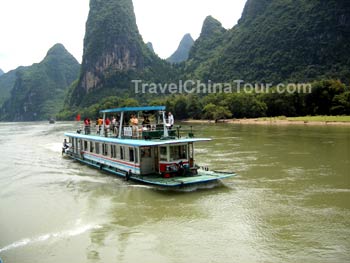 Cruise boat on the Li Jiang Li River.
On the cruise ship, you (and your party) can decide if you want to pay for a luxury full course lunch meal and be able to sit and eat on the top deck to enjoy a full view of the Li River. In the tour group, I had met a Chinese couple with a young boy who were originally from Vancouver, but are now living in Calgary. I also met another young couple who are on summer holidays from university that lived in Beijing. The 5 of us decided that it was worth the $288 yuan for the full course lunch meal to sit and enjoy it on the upper deck of the cruise ship.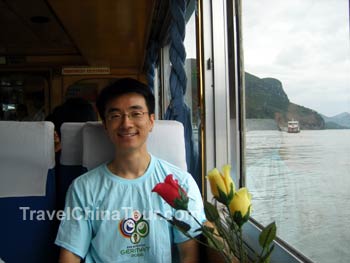 Sitting inside the cruise ship on the lower deck.
Once we paid for the extra meal, we took seats on the upper deck. It was hot and stuffy in the lower deck, and on the upper deck, which is completely wide open, it was cool and windy. We did have to sit on stools and not the soft cushioned seats in the lower cabin, but the nice view up top was worth it.
Even if you decide not to buy the full lunch meal, all tourists still get a complimentary lunch box. You can still go on the upper deck for some good scenery, but you don't get seats on the upper deck.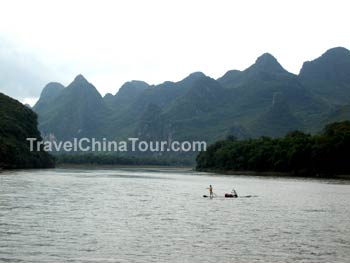 The Li River.
By quarter after ten, our Li River cruise had started, and we were on our way to Yangshuo. Continue to part 2.