After finishing my tour of Galleries 4, 5 and 1, I headed upstairs to gallery 2 and 3. Gallery 2 starts of with the Han Dynasty ranging the periods from 202BC to 220AD. The Han Dynasty was regarded as the first height of the development of Chinese feudal culture. Its economic and cultural development, and its frequent contact with outside world made the Han Dynasty the most powerful and prosperous country in the world at that time period. The Western Han Dynasty established its capital in Chang'an, which is northwest of Xian today).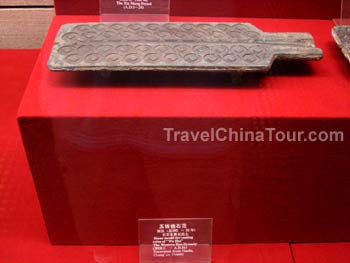 A stone mould for casting coins of "Wu Shu" from the Western Han Dynasty. Excavated from Guodu, Chang'an county.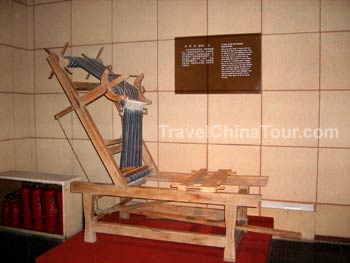 A loom from the Han Dynasty.
Wei, Jin and Souther and Northern Dynasties - 220AD to 581AD
The next section features artifacts discovered from 220AD to 581AD, which includes the Wei, Jin, Northern, and Southern dynasties. During this time period, there were frequent wars, and one political regime succeeded another. Shaanxi province was the hub of immigration and contest of the northern minority nationalities. Not much was on display for this section - mainly some miniture seals, and stone carvings.
Sui Dynasty and Tang Dynasty - 581AD to 907AD
Moving on to gallery #3, artifacts from the Sui and Tang dynasty are on display. The Sui and Tang Dynasties were the most glorious historical peiod of Shaanxi province. At that time, the capital Chang'an (which is Xian city today), had frequent economic and cultural exchanges abroad, and was one of the most prosperous cities in the world at that time.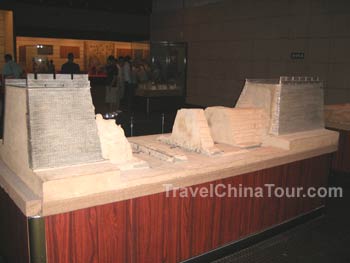 A model of the Chang'an city walls which shows how the city walls were built.
Song, Yuan, Ming, and Qing Dynasties - 960AD to 1840AD
The next section shows the final 900 years of Chinese Dynasties during the reign of the Song, Yuan, Ming, and Qing Dynasties. During this time period, the political center of China moved east, and Shaanxi province gradually turned into a military and strategic stronghold.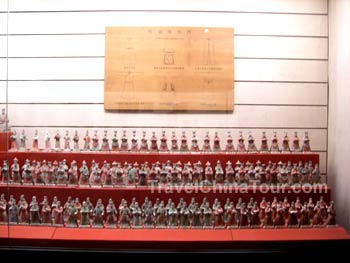 An interesting item on exhibit was the Pottery Honor Guards of Prince Qinjian. See photo above. These pottery figures add up to more than 300 pieces that were unearthed at Jianwangjing Village, Chang'an County in 1990, and they are from the Ming Dynasty. These tiny pottery figures originally held wooden staves, however, due to time, the wooden staves rotted away. These figures were funerary guards of Prince Qinjian, and on the pedestals of each figure is written in ink the name of that figure.
This concluded my tour of the Shaanxi museum of history.