Continued from previous entry here, I entered the fourth room, which displays the stone tablets of calligraphy writing by famous calligraphers from the Song to the Qing dynasties. This room also exhibits various stone steles from the Ming and Qing dynasties which describe historical events.
This is also one of the busiest rooms in the museum. You will see several employees dabbing some sort of red or black paint on paper plastered over stone tablets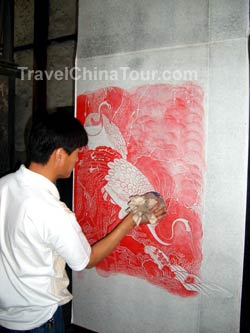 Printing from a stone tablet.
If you're not sure what I'm talking about see the photo above. A large piece of paper is placed on top of a stone tablet. The artist holds a round ball of cloth of some sort, dabs it in red paint, and dabs away on the paper and an impression of the carving on the stone tablet then begins to show.
Visitors can pick which stone tablet they would like reprinted, and the cost ranges around $200 yuan and up.
The Fifth Room - this room exhitbits stone steles from the Song, Yuan Ming, and Qing dynasties. These tablets record temple renovations, records of merit, allocation of fields to peasants, and also reconstruction of canals and city walls.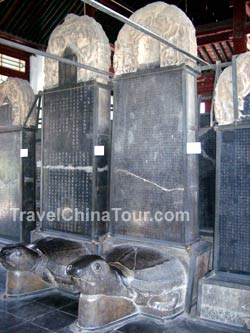 Stone tablets from the 5th room.
The Sixth Room - This room displays stone steles that contain mostly poems, written by poets of the Qing Dynasty. There are also poems from the Yuan and Ming dynasties.
The Seventh Room - this room contains 145 stones (290 sides) containing inscriptions made by Fei Jiazhu in 1646.
Just outside the 7th room is the "Horse Hitching Stakes", which are stone pillar sculptures that were used to tie animals in ancient times. These were spread across the northern part of Weihe River in Shaanxi province during the Ming and Qing Dynasties. On top of these stone pillars were carved animals and human figures.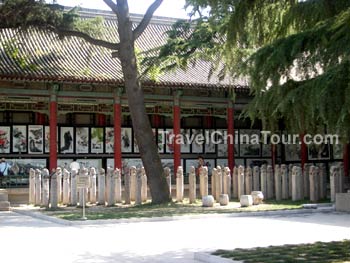 Carved stone pillars on display.
Continuing on with the tour of the Xian Stone Tablets Museum, I came up to a separate museum section just for stone sculptures. Shaanxi province was the site of capitals for the Zhou, Qin, Han, and Tang dynasties, so it is abundant in stone carvings and sculptures. On display in this area are Han and Tang dynasty stone sculptures which include stone coffins, pictorial stones, and stone sculptures. These stone sculptures have distinctive styles of carving, and posses great artistic value in China art history.
Some of the stone carvings include stone buddhas, stone horses, stone lions, stone rhinoceros, and much more.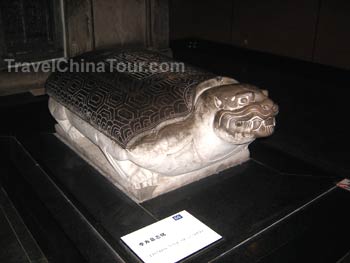 Stone carving of a turtle.
This was the last section of the Xian stone tablet museum tour. So when I finished here, I left the museum through the front entrance, and right outside of it, is one of the many side entrances to the Xian City Wall.