After the Bell Tower, I headed to the Drum Tower, which is located about 200 meters west of the Bell Tower. Unlike the Bell Tower, the Drum Tower is not located in the middle of a busy intersection, and you do not need to use an underground passage to enter it.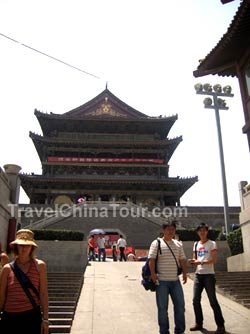 Path leading to the Drum Tower
Once you get to the top of the Drum Tower, you'll immediately see two large drums, a gigantic drum on the left, and a slightly smaller drum with a yin and yang symbol on the right side. You can pay the attendant there $5 yuan to beat the drum three times, with each beat representing:
1) Happy life
2) Good health
3) Smooth sailing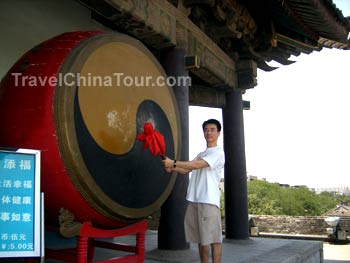 Here's me beating the drum 3 times for good fortune. :)
And of course, I paid the fee to beat the drum three times. I didn't beat the drum quite hard, but it was still very loud, and you'll be able to feel the sound vibrations from the drum.
History of The Drum Tower
The Drum Tower was built in 1380AD during the reign of Emperor Taizu of the Ming Dynasty. There used to be a huge drum inside the tower, and that's how it got its name. The Drum Tower covers an area of 1840 square meters, and stands 34 meters tall. During ancient times, the Drum Tower was also used to report time.
There was much more to see and do at the Drum Tower compared to the Bell Tower. Walking around the four sides of the tower, each side has on display a different set of drums.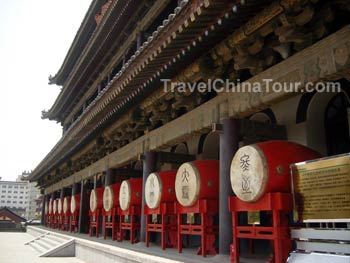 Drums along the sides of the Drum Tower.
Inside the Drum Tower, on display are all types of Chinese drums used during ancient times. You are able to enter the second level of the Drum Tower, where various ancient Chinese furniture are on display. Outside the drum tower, on one side, there is a large drum called the Night Watchman Drum, which was struck three times each night. The first beat was struck at around 19:00 to 21:00 just after sunset, signalling the closing of the city gate. The second beat was struck at mid night to warn citizens of safety, and third beat was struck at around 5:00 to 7:00 signalling the opening of the city gates.
Daily Performances At the Drum Tower
Like the Bell Tower, there is a performing stage where drum performances are held daily. While I was too early for the Bell Tower show, I was just in time for the Drum Tower performance. The drum performance started at 2:30pm, and involved three different drum performances. The performance lasted 15minutes.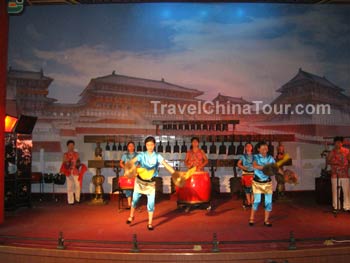 Drum performance insdie the drum tower.