I headed to pit #3 after finishing my tour of pit #2. Pit 3 was discovered in June 1976, and is located just a bit north of pit #1. This is the smallest of the three pits and covers only 520 square meters - it measures 28.8 meters long, 24.57 meters wide, and 5.4 meters deep. Because this is a small pit, only 68 terra cotta figures, 1 chariot, and 34 bronze weapons were uncovered here. Pit #3 is now known as the command center of pit 1 and pit 2.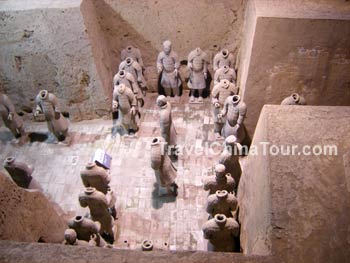 Many of the terra cotta soldiers had missing heads in pit #3.
About Terra Cotta Pit #3
Excavation of pit #3 started in 1977, but formal excavation of pit 3 did not start until 1988 when it was fully excavated and restored. At the east end of the pit, there is a sloping road which is the entrance followed by a chariot horse. The walls around the pit were rammed into 2 layers with pillars arranged on its inner side. The earth walls supported a wood roof that was made of huge rafters covered by layers of earth fill. The top of the pit was 2 to 3 meters above Qin's ground level. When the pit was completely constructed, the entrance was blocked by the pillars.
Tang Tri Color Pottery & Bronze Chariots Museum
Aside from the 3 buildings housing the 3 terra cotta pits, there is also another building that's an exhibition hall for Tang tri color pottery, Qin's bronze chariots, and various other relics and artifacts.
The Tang tri-color pottery (Tang Glazed Pottery) is a ancient Chinese pottery style that's held in high value in Chinese culture - it symbolizes the achievement in art in a well developed feudal society. Tang tri color pottery consists of 3 colors of glazes: red, green and white (or yellow, green, and white). The museum exhibited Luo Yang Tang tri color pottery, which includes a variety of figures, animals, people, and various others that reflect the art and culture of the Tang Dynasty.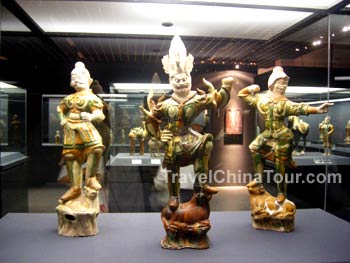 Photo of various Tang Tri Color pottery in the exhibition hall.
Another area of interest inside the museum here is the section that has color painted bronze chariots uncovered from the Qin dynasty in Qin shihuang's Tomb.
A large large pit of chariots and horse were uncovered 20 meters on the west side of Qin Shihuang's tomb which covers an area of 3025 meters squared. This was discoverd in 1978, and in 1980, two sets of chariots and horses were complete unearthed from 7.8 meters deep underground.
The 2 sets of horses and chariots were made about 1/2 the actual size of real horses and chariots, and they are the symbol of Qin Shihuang's guards of honor. All the major parts were made of tin-bronze alloy with another 14kg of units made of gold and silver - these chariots weight a total of 2302kg.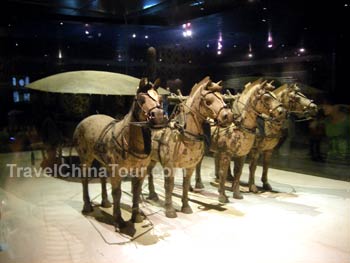 Photo of the bronze chariot with 4 horses.