After I finished touring the Small Wild Goose Pagoda, I headed to the Shaanxi Provincial History Museum, which is about a 10 minute taxi ride heading south from the small wild goose pagoda. When I arrived at the Shaanxi province museum, it looked like a large temple built with traditional Chinese architecture; however it had a very pleasing modern look to the building.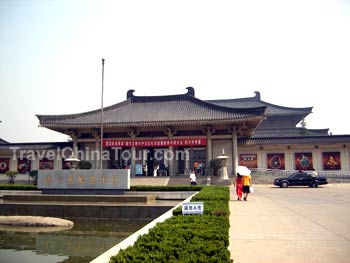 Front entrance of the Shaanxi Museum.
About the Shaanxi Provincial Museum of History
The Shaanxi History Museum opened on June 20, 1991, and is China's first modern museum. It covers an area of about 70,000 square meters, and has a large collection of over 375,000 pieces of cultural relics, 18 of which are protected national treasures of China. The museum exhibits ancient bronze wares, pottery art from various dynasties, gold and silver items of the Tang dynasty, and much much more.
The museum has 3 types of exhibitions which are 1) the permanent exhibition, 2) exhibitions of special subjects, and 3) temporary exhibitions. In total the museum has seven galleries.
Shaanxi Provincial Museum Tour
When I got inside the museum, I really wasn't sure which way to go, so I just started with the left side (west wing) of the museum which happened to be Gallery #4. The main theme of gallyer 4 was bronze mirror artifacts from Chinese history. Bronze mirrors originated at the late Neolithic period. In Chinese history, exquisite mirrors became favorite cherished items by the nobles, and mirrors also served as burial objects that accompanied the owner's soul in the afterlife.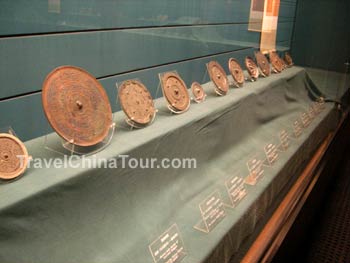 Bronze mirrors on display.
In this gallery, about 180 pieces of selected bronze mirrors were on exhibit which span the time period from the Western Zhou dynasty to the Yuan and Ming Dynasties. Most of these mirrors were unearthed from tombs, and these mirrors demonstrate the development of bronze casting skills in Chinese history.
The next exhibition hall in line was gallery #5, which is a display of various random artifacts and relics. There are about 100 selected objects on display in this gallery, which include bronze weapons, horse stirrups, pottery figures, ancient writing on wood blocks, gold and silver coins, and more.