Liu San Jie, or third sister Liu, is a famous Chinese folk song singer. She was beautiful and was an outstanding folk song singer of the Zhuang nationality during the Tang Dynasty (618-907). She was born in a village along the Li River. She fell in love with a handsome young man who was also good at singing folk songs, and the two vowed to never separate from each other.

However, a evil man in the village was attracted by Liu SanJie's beauty for a long time and decided to take her by force. On a moonlit night, the evil man and his cronies tried to take Liu San Jie away while she was sitting at the riverside with her lover. With no where to escape, the two jumped into the Li River hand in hand, and that became the legend of Liu SanJie.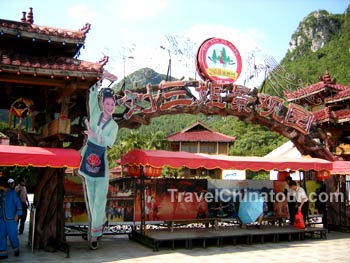 Liu SanJie park entrance.
In 1961, a movie was made about Liu Sanjie's story, and that's when the story of third sister Liu became known throughout China - the movie became an instant hit.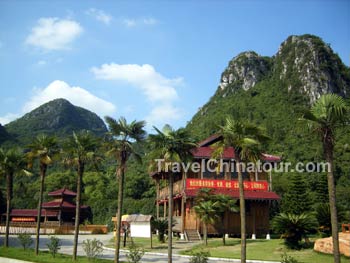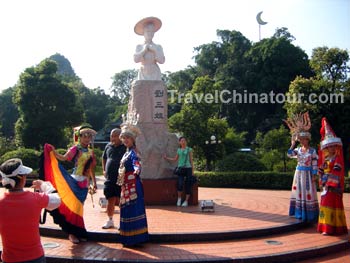 Statue of third sister Liu. The performers are taking photos with tourists.
The Liu Sanjie park puts on ethnic musical performances 3 times daily. Once in the morning, once in late afternoon, around 3 or 4 pm, and final show at 8pm at night. The performances involves dances and various types of performances reflecting the diverse ethnic groups of the region.