The small wild goose pagoda along with the big wild goose pagoda makeup two of the very famous landmarks in Xian. As the name suggests, the small wild goose pagoda is smaller compared to the Big Wild Goose Pagoda. The small wild goose pagdoa is located 1.5km from Xian city center, and it was built between 707 to 709 during the Tang Dynasty.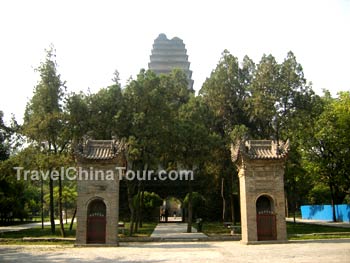 Path way leading to the Small Wild Goose Pagoda in Xian.
About the Small Wild Goose Pagoda
The small wild goose pagda was originally 15 tiers tall; however the topmost square brick structure was destroyed in an earthquake in 1556. The remaining base which is still intact till this day, is 43.3 meters tall. The ground tier is 11.38 meters wide, and each higher level tappers going upwards.
The small wild goose pagoda is built in the Jianfu temple, which was originally built in 684 AD to commemorate the 100th day of Emperor Gao Zong's death.
Small Wild Goose Pagoda Tour
After entering the main entrance of the Jianfu Temple, I came up to a large courtyard - more like a park actually. Many locals like to come here to relax, engage in community activities, practice taichi, and go for walks here. After heading in further, I came up to the small wild goose pagoda. With its height, the small wild goose pagoda is easily visible.
To climb the small goose pagoda, you have to pay an extra $10yuan, which is not included in the entrance ticket fee. The small wild goose pagoda is 12 to 13 stories tall (i'm unsure of the exact number of tiers), since as you climb higher, the height of each level decreases. By the time I was near the top 2 or 3 levels, they were actually 2 levels combined into 1 level, and at the very top levels, I could barely stand straight without banging my head on the ceiling.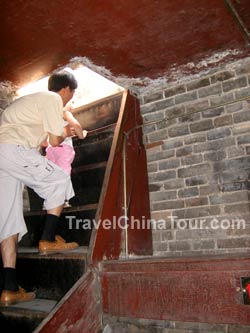 At the very top level, there is a very small opening that you can climb through to the open roof of the pagoda (sealed off with steel fences). The opening is so small that I couldn't fit through it with my backpack on. Once on top of the ceiling you get a fantastic panoramic view of the entire Xian city.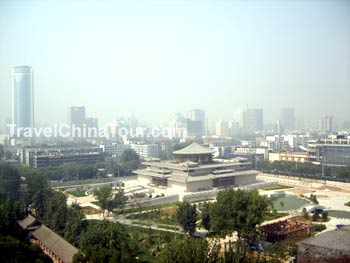 Inside the Jianfu temple (where we are, and where the small goose pagoda is located), there is a new construction area that looks to be an extension of the existing park. The building you see in the photo above is newly built (i'm not sure what it will be used for), and it's hard to see, but the surroundings by that building are still under contruction when I took this photo.
I would suggest budgeting 1 to 1.5 hours to tour the small wild goose pagoda.