Guilin Ocean Aquarium is one of the largest aquariums in China. It's a relatively new attraction in Guilin that was opened in late 2003. It is located at the Nanxi park, and on display are thousands of different types of fresh water and ocean life forms. There are about 11 daily performances spread throughout the day at the Ocean Aquarium. The first show starts at 9:30am with the mermaid show. At 10:00am is feeding the sea lion show; 10:30 is swimming with sharks, and so on. About every 30 minutes to 1 hour, there is a performance. At 2:00pm is pirahna feeding frenzy, and the last show of the day at 5:30pm is shark feeding session.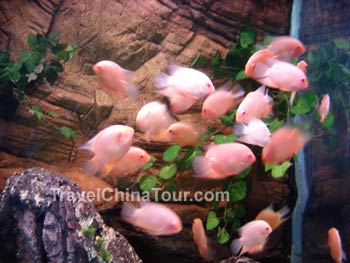 Fish at the Ocean Aquarium.
The cost of the ticket is $80 yuan. You first enter a winding hall way with many fish tanks on the two sides displaying many types of exotic fish. The first section are various types of fresh water fish. There were fish tanks with just 1 or 2 fish, and there were other tanks with hundreds of fish swimming about.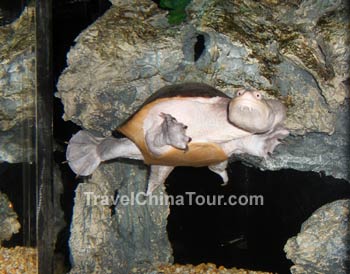 At 2:30, there was a fish feeding show on in the gigantic aquarium tank. A female diver with fish feed showed up in the aquarium tank. She had fish feed in her hands, and almost immediately, hundreds of fish began swarming around her. Wherever the bag of food went, the fish followed.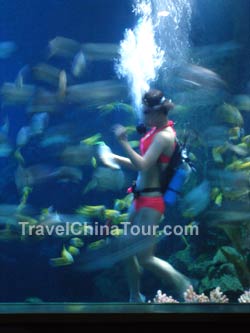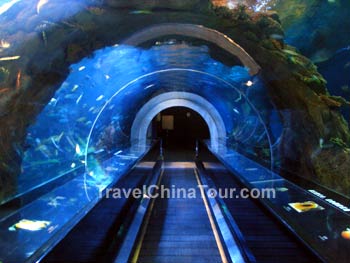 Inside this large aquarium tank, there is a tunnel that tourists can pass through, and view all the hundreds of fish swimming about in the tank.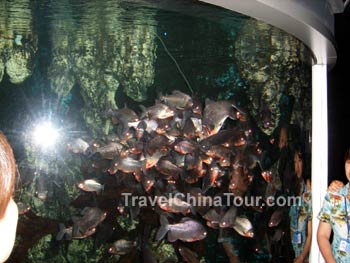 Pirahna feeding frenzy.
As I was finishing up my tour of the Guilin Ocean Aquarium, there was another feeding session going on - this time for the pirahnas. A large piece of meat was tied to a string (which you can see dangling into the fish tank). When this was lowered into the tank, the pirahnas went crazy. The pack dragged and chased the piece of meat around the entire fish tank. Within a few minutes, the large piece of meat was all gone.