Shilin (Stone Forest) is in the Yi Nationality Autonomous County, which is in the northeast of Kunming City, with an area of 400,000 mu. It's one of Karst areas. Compared with Guilin which also belongs to Karst area, the mountain peaks in Shilin are extremely distinct. They seem to be formed by axes with many axe marks. People consider Shilin as "World First View".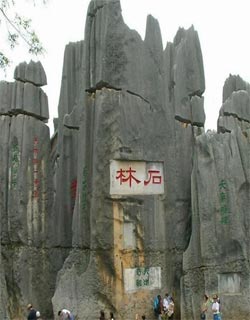 Kunming Stone Forest.
Shilin Weather
Shilin is located at moist area of central Asha tropics. It belongs to the continental monsoon climate. Due to the high elevation, Shilin is warm all year long. So it is an ideal tourist destination all year round.
Shilin Stone Forest Scenery
Shilin had been developed 1,200 mu with various shapes of stones. In this visiting area, you can see these stones have different types and shapes. Some of them look like brave soldiers who are fighting with each other; some stones look like mothers and children who are relying on each other; some look like sharp swords; some look like birds and beasts... In short, they are remarkably true to life and worthy of its name. Though there are many other places also called Shilin (stone forest), the South Shilin in Kunming Road has the most unique and wonderful scenery.
There are a wide variety of stones at the stone forest, and they also have interesting names. One stone looks like a docile elephant standing on the top of crags, so people named it "Elephant occupies crags"; a huge stone's shape looks like the ganoderma lucidum, so people called it "Ten thousand years ganoderma lucidum"; a huge stone looks like a pretty peacock combing her beautiful wings, so people named it "Peacock combs wings"; another huge stone looks like two birds and they are capturing food, so people called it "Two birds capture food". These are just a few examples of the wide variety of stones you will see.
Developers specially built a visiting road about 5 kilometers for tourists. So you can view the main scenic spots going along this road. Looking up and down, you can see many mountains and pools. Jianfeng Pool is always attracting many tourists. There is a small bridge over the pool whose waters originate from the underground river. People could walk along this bridge over the pool. In the middle of the pool, a sharp mountain peak seems to stretch into the sky. It's named Jianfeng Peak.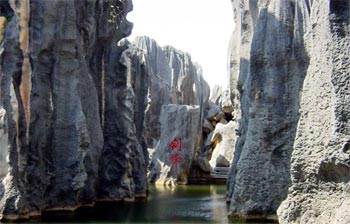 Jianfeng Pool.
Shilin Folklore
"Ashima" is a beautiful folklore in Shilin. She is a kind, clever and pretty Hani national minority girl, whose love story was impressed on people's minds for thousands of years. Looked from the distant place, a great mountain looks like a slim and graceful young girl carrying a basket. That is Ashima Moutain. When you travel this mountain, the tour guide will tell you Ashima's story.
One central area called Plum Stone Forest which is full of stone forest lakes, big stone forest, small stone forest and plum gardens. This area expands 12 square kilometers, with 1,200 mu visiting land. Tourists can see some Chinese poems carved on the stones.
Changhu Lake (Long Lake), Zhiyun Cave (Purple Cloud Cave), Qifeng Cave (Strange Peak Cave) and Dadie Waterfall (Thick Waterfall) are the very places that tourists like to tour.
Festivals are anther interesting attraction to tourists at Shilin. Every year, on 24th July of lunar calendar, different national minorities will gather together to celebrate the Torch Festival. In the daytime, people hold some activities, such as the wrestling, the bull fighting, pole climbing and so on; in the evening, people dance and sing around the bonfire and perform the dragon and lion dance. That's full of national minority's atmosphere. Meanwhile, "Axi dances with the moon" and "Dasanxuan Dance" are also the favorite traditional festivals.