Summer Palace (YiHeYuan in Chinese) is located North West in Beijing, close to 5th Ring Road. Instead of dropping us off at the front entrance of Summer Palace in Beijing, our driver thought it would be more interesting for us to enter the Summer Palace via the water way that the old emperors and empresses used in Beijing city, which were off limits to the common people. The water way is called the "Cixi water canal" (Cixi sui dao). It is the same water canal that Empress Cixi used to travel to Summer Palace in the past.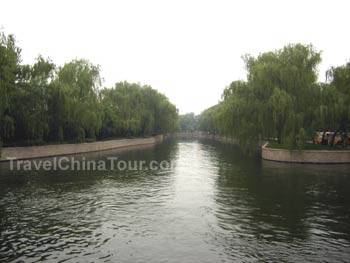 A photo of the Cixi Water Canal.
I can't say for certain, but I believe a boast leaves every 15 minutes or 30 minutes. The ticket cost $65 yuan (under $10 USD), which also included the entrance fee to summer palace. Inside the boat, there's a guide that gives detailed explaination of the water canal and its past; however, they only spoke Chinese. The boat ride would have been more enjoyable had it been air conditioned.
Beijing Summer Palace Tour (Yiheyuan)
It was almost 3pm when I arrived at Beijing Summer Palace. The boat ride was approximately 15 minutes, and I ended up falling asleep during the later half of it due to a long day of travel, and it was rather hot.
After getting of the boat, you present your ticket to the gate keeper, and are then admitted into Summer Palace. A long path then follows, that you follow to tour around - mind you, Summer Palace is huge, and you could spend all day in here if you wanted. But like most attractions in China, there are cart services, where you pay a nominal $5 to $10 yuan for a ride inside the park. However, I elected to walk this time.
The path winds around the West Lake within Summer Palace, and the scenery is just beautiful. There are green trees and grass all along the sides of the lake and the path.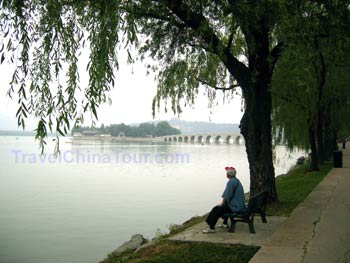 A local sitting and just enjoying the scenery of Summer Palace.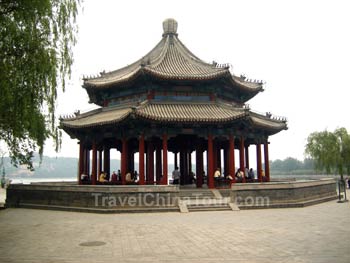 A photo of the "Temple of Timely Rain".
Going down the path along the West lake, I came up to the Temple of Timely Rain (Guangrun Lingyu Ci). This temple is built on the east bank of the West Lake, and it used to be known as the Dragon God Temple. When West Lake was expanded during Emperor Qianlong's reign (1736-1795), the temple was reconstructed as a place to pray for rain.