Zhuge Liang Hall is behind the second yard. It is obviously lower than Liu Bei's. Visitors have to walk down several steps before they can get into the third yard. As you see, Zhuge Liang Hall in the temple sits on a lower ground than Liu Bei Hall. It is a deliberate arrangement to reflect the different status between Liu Bei and Zhuge Liang. In ancient China an emperor was the son of Heaven. He was superior; and all other people were his subordinates.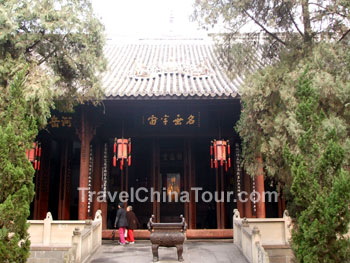 Please look at the horizontal wooden board that hangs on the top of the entrance gate of Zhuge Liang Hall. It says: "Eternal Glory Remains All over the World (名垂宇宙)".
Inside the hall, horizontal inscribed boards and couplets fill up the walls. They carry words of praise for Zhuge Liang. Among them is the most famous couplet in the middle of the hall. Literally it means that try to persuade an enemy to stop his attack during a war, and the war will then disappear. No soldier wants to fight since ancient times. Try not to forget to weigh the conditions and situation, otherwise leniency and strict punishment will all fail. Those, who come to manage Sichuan, should think it over.
This couplet contains two stories. One story says that once Zhuge Liang served as the general commander of the Kingdom of Shu, and he was scheduled to attack the Kingdom of Wei in North China. However, he was worried that the troops of the minorities might take this opportunity to harass the Shu in southwestern China. So he went to the southwestern areas with his troops. Zhuge Liang wished to establish a good relationship with the minorities, but they didn't accept Zhuge Liang's good-wish. They sent soldiers to fight against the troops from the Shu. However, Zhuge Liang successfully defeated their attack and caught Meng Huo (leader of the minorities). Instead of punishing Meng Huo, Zhuge Liang set him free. Then Meng Huo was caught again, Meng Huo prostrated himself before Zhuge Liang. He said that he and his soldiers had given up on attacking him, and he would like sincerely to have a good relationship with the Shu. From then on, the minority people and people of the Shu lived in peace.
The other story tells how Zhuge Liang made his discipline strong. The story happened during a military campaign against the Kingdom of Wei. Zhuge Liang ordered Ma Su (马谡) to garrison the Shu army troops in Jieting (街亭). Ma Su was his close assistant. Zhuge Liang trusted him with this important job because Jieting was a vital strategic place. However, Ma Su thought of himself highly and placed his troops on the top of a hill near Jieting. As a result, the Wei army soldiers occupied the strategic place. Ma Su and his soldiers were defeated. Zhuge Liang had to withdraw his troops back to the Shu. His carefully arranged campaign failed only because of the loss of Jieting. Ma Su had a close relationship with Zhuge Liang. He was a hard worker and made major contributions to the development of the Shu's army. In spite of that, Zhuge Liang had Ma Su executed for his error. It is said that tears ran down Zhuge Liang's face when he made that order.
These two stories describe Zhuge Liang as a military official who was able to convince his opponents with his wisdom and earned his soldiers' respect and loyalty with his discipline.
And iron incense burner is placed in the middle of the path, which leads to the hall. Zhuge Liang's statue stands in the middle. It is 2m high. His son is on the right, and his grandson on the left, and they accompany Zhuge Liang in the hall. Zhuge Liang is dressed in a golden overcoat with a feather fan in his hand. He looks as if he is still concerned about his state and his local people. On the left side of Zhuge Liang's statue is a bronze drum. It's said it's a relic dated back to the 5th century. Later it became a sort of music instrument for some special occasions. It was said that during Zhuge Liang's southwest military expedition, his soldiers used it as a cooker during the day and struck it at night as a warning sound.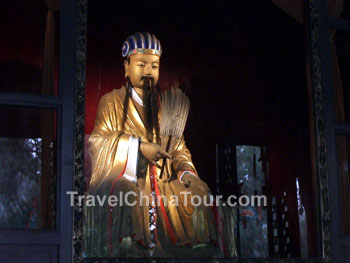 Statue of Zhuge Lian inside the Wuhou Temple.
Zhuge Lian the Strategist
Zhuge Liang was considered by historians to be the most accomplished strategist in the early Three Kingdoms Period. He was a native of the Shandong areas. Historically, Zhuge Liang was also known as Zhuge Kong Ming (诸葛孔明). He was nicknamed the Hidden Dragon. People around him underestimated his capacity to achieve great things. Other translations of his nickname were the Crouching Dragon and the Sleeping Dragon.
For a while, Zhuge Liang lived in a thatched cottage in Longzhong, Hubei area. He quietly chose to farm his land and make friends extensively with the refugee-scholars from North China. Zhuge Liang seemed to live alone, away from current politics. Actually he analyzed the situation and integrated his knowledge with the practical struggle for power. He studied carefully the books of every school, pursuing a life of study concerning the classics of ancient literature, history, and military affairs. It is said that Zhuge Liang particularly admired the career and achievements of Guan Zhong (管仲-645BC). Guan was a famous statesman of Qi, and he used his wise consul to help his state to prosper. On an invitation by Liu Bei, Zhuge Liang left his home to join him. At that time, Zhuge Liang was 26 and Liu Bei was 47 years old. This became a major turning point for Liu Bei. Together they later established the Kingdom of Shu in Sichuan.
Throughout his life, Zhuge Liang was dedicated to resisting the Wei and maintaining the independence of the Shu. He later served as prime minister of the Shu for Emperor Liu Bei and his son Liu Chan. During his administration Zhuge Liang brought peace to the state due to his northern and southern military expeditions. Besides his military and engineering achievements, Zhuge Liang pushed for law enforcement and adopted strict disciplinary measures, as well as carefully giving impartial rewards and punishments. These measures effectively promoted the development of the kingdom.
Well, there is one more spot to go to. It is Liu Bei's tomb surrounded by a circular wall. It is 12m high and 80m in circumference. For 1700 years the tomb has remained untouched, and what is inside is unknown.