January 2nd, 2007 was the big day for my friend Tim. We got up early at around 8am and had some breakfast at the hotel. The original plan was for Tim to show up at the Bride's door at around 9:30. Of course, things were running a bit behind, and it was about 10:30am when the best men and the groom were at the front doors of the bride's home.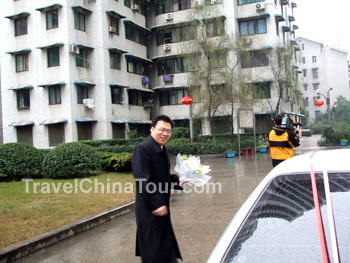 The groom holding a bouquet of white roses, heading to pick up his new bride.
About Chinese Wedding Customs & Tradition
Modern weddings in China are not quite like western weddings, and at the same time, isn't quite like the totally traditional Chinese weddings either – they tend to follow the traditional wedding ceremony with certain western elements mixed in.
Early in the morning, the groom and his best men will head to the home of the bride to pick her up. But before the groom is allowed to take his bride away, he must first pass several "tests" made up by the bridesmaids. After this, red envelopes are given to the bridesmaids, and the groom is then allowed to see his bride-to-be.
Another important step of the Chinese wedding process is the offering of tea to the parents of both the bride and the groom. The bride offers tea to the groom's parents, and the groom offers tea to the bride's parents. Drinking the tea symbolizes the acceptance of the new member into the family. After drinking the tea, the parents will give the bride and the groom each a red envelope (money) along with their blessings for the new couple.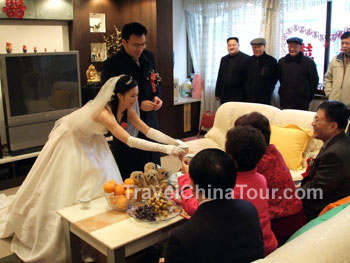 The bride is offering tea to the groom's parents.
Everyone now heads to the wedding hall for the official ceremony. After the ceremony, lunch is served to the guests. What follows will probably differ depending on the region in China where the couple is married. For Szechwan province, the customs here is for the guests (if they choose) to play mah-jong after lunch until dinner time. Then dinner will be served for the guests that remain. However, the official wedding ceremony and banquet ends after lunch.