If you're like me, and must travel with a laptop, or some type of electronic device that uses the standard north american electrical plugin, you will defintely need to buy a Chinese power plug adapter.

I arrived at the hotel at around 4pm. Being the way I am, I needed to get online right away. You should be interested to find out that China has different shaped plug-in connections for power cords. There are two basic kinds, a three headed, flat and diagonally positioned connection and a standard 2 pin parallel connection. The three head pin is swell, but for those that bring along their laptops that have a western type connector with 2 flat, parallel pins and a rounded grounding pin, you'll find yourself unable to plug in your AC adaptor. I had to head out to an electronics shop to purchase a power plug that had a connection that fits. It was relatively cheap, cost me only $18 Yuan.

Unlike the 3 hole, with 2 parallel hole plugins we have here, the Chinese electrical outlets have a 3 diagonal input. So there's no way I could plug in my laptop adapter's 2 parallel pins with a ground pin into the 3 diagonal electrical input. Not sure what I'm talking about? Below is a picture of a standard chinese electrical plugin.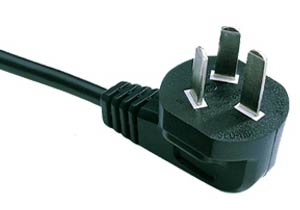 3 diagonal pins for Chinese electrical outlets.
See how the three pins are flat, and the top two pins instead of being parallel like ours here, they're diagonal facing. Keep this in mind the next time in China, or you might find yourself out of battery and unable to plug in your AC adapter!