Chengde Mountain Resort
During the reign of Emperor Kangxi, he made many inspection tours in northern China, and he found that Chengde was a beautiful place with very pleasant climate during the summer, and he decided to have a summer resort built there.
The Chengde Mountain Resort construction began in 1703, and took 87 years to complete (1790). It covers a massive area of over 5.6 million square meters, making it the largest royal garden in China. It is about twice the size of summer palace in Beijing. The wall of the mountain resort is over 10,000 meters long. Inside the mountain resort, there are over 100 halls, pavilions, pagodas, and terraces. Each year, emperor Kangxi spends about 6 months at the Chengde mountain resort to enjoy the cool weather, and handle state affairs. After the fall of the Qing Dynasty in 1911, the Chengde Mountain Resort was left in ruins, and it's not until 1949 when it was listed as a major historical and cultural site under state protection. Large amounts of money was spent to have it restored. Today, it is a major tourist attraction.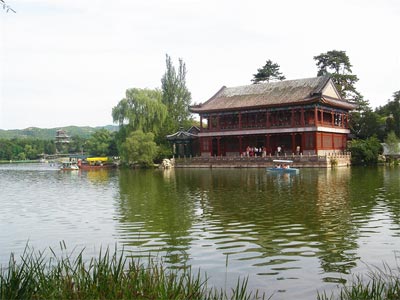 The Chengde mountain resort has three main areas including the lakes, the plains (grassland), and the hills. There are 8 lakes covering almost 500,000 square meters that make up the lakes area. In the southern part of the lakes are the palace buildings where the Qing Dynasty emperors lived and handled state affairs. The main buildings here are the Zhenggong (Front or Main palace), Songhezhai (Crane Hall), and Donggong (east palace).
The grassland area covers an area of 600,000 square meters, which lies north of the lakes area. This area was laid out very similar to mongolian grasslands, and Emperor Qianlong met with Mongolian princes here. The Qing emperors also held horse races and hunting events here. The hills area covers over 4.4 million square meters, and there are many temples that were built in this area.