Qinhuangdao Tourist Destinations - Shanhaiguan
Some interesting tour destinations of Qinhuangdao include the Shanhaiguan Great Wall, Beidaihe beach, and Meng Jiangnu temple. Shanhaiguan (山海关) is one of the districts of Qinghuandao. See district #2 on the map above. Shanhaiguan is well known for its rich history and attractions such as Laolongtou (Old Dragon's Head), Yansai Lake, and Jiaoshan Mountain.
Shanghai guan has always been an important area that's strategically located between the mountains and the sea, and it has seen a fair share of battles throughout Chinese history. Shanhaiguan got its name because of its location - Shan (mountain) Hai (sea) Guan (gate or passage).
Laolongtou (Old Dragon's Head) is the eastern starting point of the Great Wall of China. A short section of the wall extends into the sea. In historical times, the great wall was referred to as a giant dragon, and this is how this section got its name as the "Old Dragon's Head". The tower itself is 12 meters high and 23 meters wide. At the top, tourists can get a fantastic view of the Bohai Sea.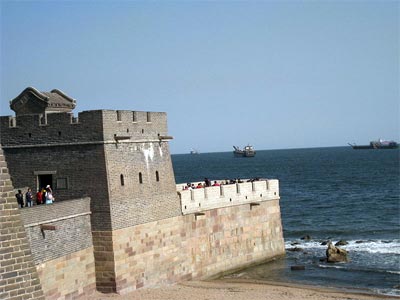 Old Dragon's Head
Another tour destination is Jiaoshan, which is the highest peak in the Qinhuangdao area. At the foot of the mountain, tourists can take a cable car which brings them to the top of the mountain.
Yansai Lake is located 9 kilometers north of Shanhaiguan. The lake spans 15 kilometers, and some have compared it to Guilin's Li River, or the Three Gorges of the Yangtze river.