In ancient China, it was customary for each dynasty to have the tombs of the emperors and royal family located in one location; however, for the Qing Dynasty, they have two burial sites - the Western and Eastern Qing tombs. The reason behind the two burial sites is because of the choice made by Emperor Yongzheng, the third Qing dynasty emperor.
There are two different stories explaining why Yongzheng did not build his tomb with his ancestors.
One explanation is that Yongzheng had originally selected the Jiufeng Chaoyang Mountain as his burial ground within the Eastern Qing Tombs, but it was reported to him that the tomb site was not an ideal site for his tomb. Since the best sites had been taken by his father and grandfather, Yongzheng ordered another burial site be chosen for him.
The second story says that Yongzheng did not want to buried with him grandfather and father because he had usurped the throne. The area around Yixian County is a blessed area for building his burial grounds, and he ordered his tomb built there.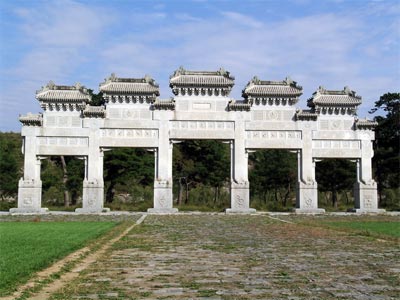 Construction of his tomb began in 1730 and completed in 1737, and this became the foundation of the Western Qing Tombs. When Yongzheng died in 1735, the heir to the throne, Emperor Qianlong, issued an order that the burial grounds of future Qing dynasty emperors must be alternated between the Eastern and Western tombs to maintain a "balance" between the two areas.
About 1km west of Tailing is Changling, the resting place of Emperor Jiaqing who ruled from 1796 - 1820.
Muling is the tomb for Emperor Daoguang who ruled from 1821 to 1850. His tomb was originally built in the Eastern Tombs. After the tomb was completed, one of his queens was buried here. However, the emperor had a nightmare one night where he dreamt that his late queen was struggling in a stormy ocean. The next morning, the emperor went to visit the tomb and found the underground palace was flooded, and the tomb of the queen was submerged underwater. Because of this, he ordered the tomb to be destroyed, and re-built at a new location.
In 1832 when he went to pay respects to his ancestors in the Western Tombs, he chose the current site as his new burial grounds. The emperor had believed that water dragons were disturbed by the construction of his Eastern Tomb which led to the flooding. So in the new construction, he ordered over 1,000 carpenters to carve dragons inside on the ceiling of the great hall. In all, there are 712 dragons carved.
The fourth tomb is the tomb of emperor Guangxu who ruled from 1875 to 1908. This is the smallest and most recent of the Qing tombs, and it was built one year after the death of the emperor.