Hainan Dao is an incredible destination in China. This smallest province of the great nation offers you a tropical idyll, ideal for family fun or a romantic getaway. Travelers will find almost deserted beaches, thick rainforest to explore, challenging hiking and much more.
Traveling to Hainan Dao can be the highlight of any trip to China. However, you'll need the right accommodations to make the most of your stay. HotelsCombined.com can help you get the best rates and you will find a list of the top hotels below.
Crown Spa Resort Hainan
If you are looking for luxury, the Crown Spa Resort has it. You'll find an amazing hot spring, where full spa services are available, luxurious rooms and suites for your comfort and amazing manicured grounds. The resort is located right on the sandy beach, allowing you to enjoy the sparkling water easily, while you will also find numerous other luxury amenities on property. Billed as the 'largest resort in China', you will find that the grounds and buildings are truly luxurious and the service top of the line.
Crowne Plaza Sanya
463 rooms and suites make up this luxury hotel. Guests will find the beach is only 5 minutes away on foot, while there are numerous dining and shopping opportunities nearby. All rooms and suites offer you the western-style accommodations that you want, including comfortable bedding, cable TV, high-speed Internet access and luxury bath amenities. You will also enjoy the lagoon pool and the relative seclusion provided by the resort. Each room is surprisingly spacious, and decked out with opulent décor and furnishings for your comfort.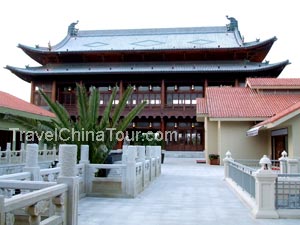 Mangrove Tree Resort
The resort boasts 502 rooms and suites, providing all the amenities and comforts that you would expect from a top of the line resort. The service is warm and almost all rooms feature views of Yalong Bay. Outdoor showers on guestroom balconies are a great way to enjoy the beauty of the area, while the pools and other amenities on property are fantastic benefits. Guestrooms feature exotic woods, sumptuous fabrics and many other touches of luxury for your enjoyment.
Hainan Prima Resort
If you are looking for accommodations without the high-end resort price tag, this is the best spot for you. Located at the edge of a magnificent coconut plantation, the resort features 202 rooms, quality service and the amenities you want. All rooms are situated in wood-constructed chalets, offering unique style and comfort for visitors.
Related: