The city of Sanya is located in the southern region of Hainan island. With a population of over 550,000, Sanya is one of the most popular tourist city by the ocean, and attracts visitors worldwide. In ancient times, Sanya was called Yazhou and the city has a history dating back to the Qin Dynasty (221 BC).
Sanya covers an area of about 1,900 square kilometers, and borders the South China Sea. Sanya is located about 300KM south of Haikou city, and you can easily travel between the two main cities by bus, which takes around 3.5 to 4 hours. Sanya is situated in a tropical zone with annual temperature averaging around 25C. It's average winter month temperature is 23C and summer month temperature around 29C.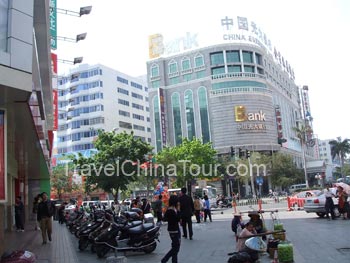 Sanya Tour Attractions
If you've been to China, you'll know that air quality isn't exactly the best, and city cleanliness is also lacking. However, if you visit Sanya, you will be surprised at the air quality and the cleanliness of the city. When I first arrived there during my own trip, I was amazed at how clean and well kept the city was, and how fresh the air was. You can read more about my impressions of Hainan Sanya here.
Sanya Yalong Bay
One of the most popular and scenic spots of Sanya is Yalong Bay. Yalong Bay is most well known for its beautiful beaches with crystal clear waters and perfectly smooth sandy beaches.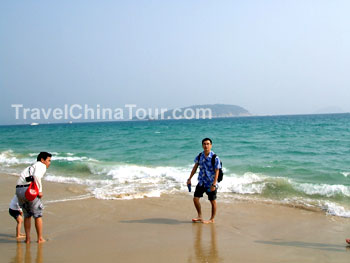 That's me on the beach in the blue short sleeve.
The Yalong Bay area is also where you will find the finest Sanya resorts and hotels that are located all along the beach. During my visit there, I stayed at the Horizon Resort and Spa. Most (if not all) of the hotels in this area are all 5 star hotels, and it's certainly not cheap. It cost me around $1800RMB per night. While the food offered at the hotels and restaurants in this area were good, you will be able to find less expensive and better tasting seafood by taking a taxi ride in to sanya city.
Sanya Nanhai Guanyin
Another popular and must see tour destination of Sanya is the Nanhai Guanyin - Guanyin of the South Sea. The main attraction here is the 108 meter statue of the Guanyin that is built on the ocean. The gigantic statue has three faces - one faces inland and the other two sides facing the sea. Construction took six years and it was enshrined on April 24, 2005. This is a must see if you ever visit Sanya.