Sanya Yalong Bay Beach
Yalong Bay (Yalong Wan) is one of the most popular scenic spots in Sanya. It is world famous for its sand beaches and crystal clear waters. The entire Yalong Bay area is full of five star hotels and resorts that are built along the beach. Yalong Bay is located about 25 kilometers from Sanya city - roughly a 25 to 30 minute taxi ride. The Yalong Bay tourist resort was established in October 1992, and it has been developed into a world class tourist resort since then.
One of the key landmarks of Yalong Bay is the Yalong Bay Central Square - at it's center is a 26.80 meter stone totem pole.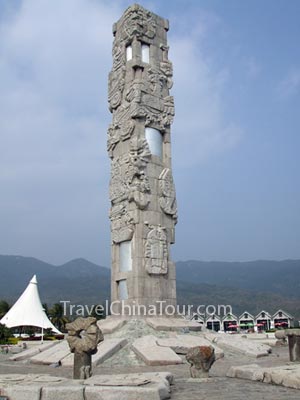 The stone totem pole at Yalong Bay central square. There is also a seashell exhibition hall and a butterfly valley for tourists to visit.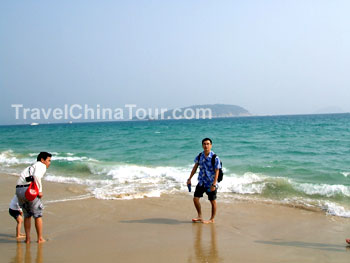 That's me on the beach in the blue short sleeve - at the Yalong Bay Central Square beach.
Sanya Tianya Haijiao and Nanhai Guanyin Tour
Tianya Haijiao is located west of Sanya city. It is a beautiful scenic spot that makes it one of the must visit spots of Sanya. It opened in 1988, and the name Tianya Haijiao means the edge of the sky and end of the ocean - symbolizing being far and distant. The scenic spot is right on the beach and tourists can take a long walk on the beautiful beach before they come up to the large rock formations that has "Tianya" and "Haijiao" inscribed in it. See photo below: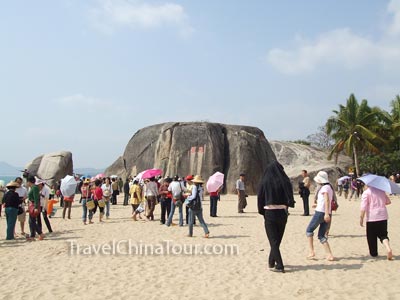 The rock in this photo has the words "Tian Ya" inscribed on it.
Not far from Tianya Haijiao is the Nanhai Guanyin. It is a popular tour destination of Sanya meaning Guanyin of the South Sea. The main attraction here is the 108 meter statue of the Guanyin that is built on the ocean. The gigantic statue has three faces - one faces inland and the other two sides facing the sea. Construction took six years and it was enshrined on April 24, 2005. This is a must see if you ever visit Sanya.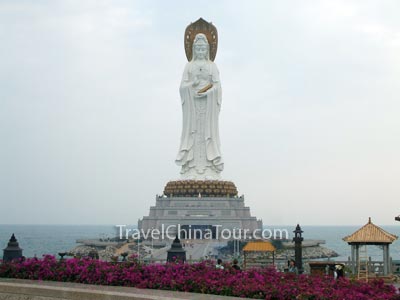 Related: